Well let's be true to self, one might return without any sighting in Kali Tiger Reserve. The dense foliage and the heavy undergrowth keep the treasure well hidden. But driving through this lush-green forest leaves you well satiated. Though spotting one would always be an icing on the cake, I would feel content hearing the sounds of existence of these indomitable animals against domineering jungle.

Endless knee down moments on an endless road to the forest, cold infused air and strained neck as it reacted to the sounds, the safari started with enough action to pack with. Watching the Sun, still draped in its soft orange hue in the vast expanse of dark green mountains, is a moment to go down the memory lane. There was no hint of human intervention in this stretch – all left to nature, a unique floral mosaic. Yes, there were activities; there were sounds, but all too hidden. But being in such a dense forest is itself indefinable. And amidst the cries of Chitals and the growls of Banette Macaque, coming from distance, you almost hear the jungle speaking amongst itself and with you. It is a desired sojourn from the hustle-bustle of life.
The safari was for two hours in the morning. The mist laden air hadn't shed its chill; the morning mist had lowered visibility, which was anyway restricted. While the famed Nagarhole and Bandipur of the south are known for rolling grasslands, which bolsters the chances of sightings, North Karnataka is dense, dark but equally and differently enchanting.
As we drove, my discussions about the Black Panther started with naturalist Prabhakaran. I had some ground idea about Black Leopard being nothing more than leopards with high melanin pigmentation. If you look closely, you can spot the rosettes markings (of leopards and something that separates leopards from jaguars). The black pigmentation provides a good camouflage in the dense forests of KTR. But I had a flurry of questions and he answered me patiently. So the take-away learning – inter-breeding between the normal and the pigmented leopards is common, hence a lot of inter-mingling of genes, which increases chances of survival of the species in wild. The sightings of this elusive creature are rare and prized, but they are increasingly increasing, which is a healthy trend and these sightings are happening from all over Karnataka now, more in denser habitats like KTR. This genetic aberration which proves a boon in dense forests of Kali, would be bane in open habitations like Nagarhole, where normal pigmentation will be preferred.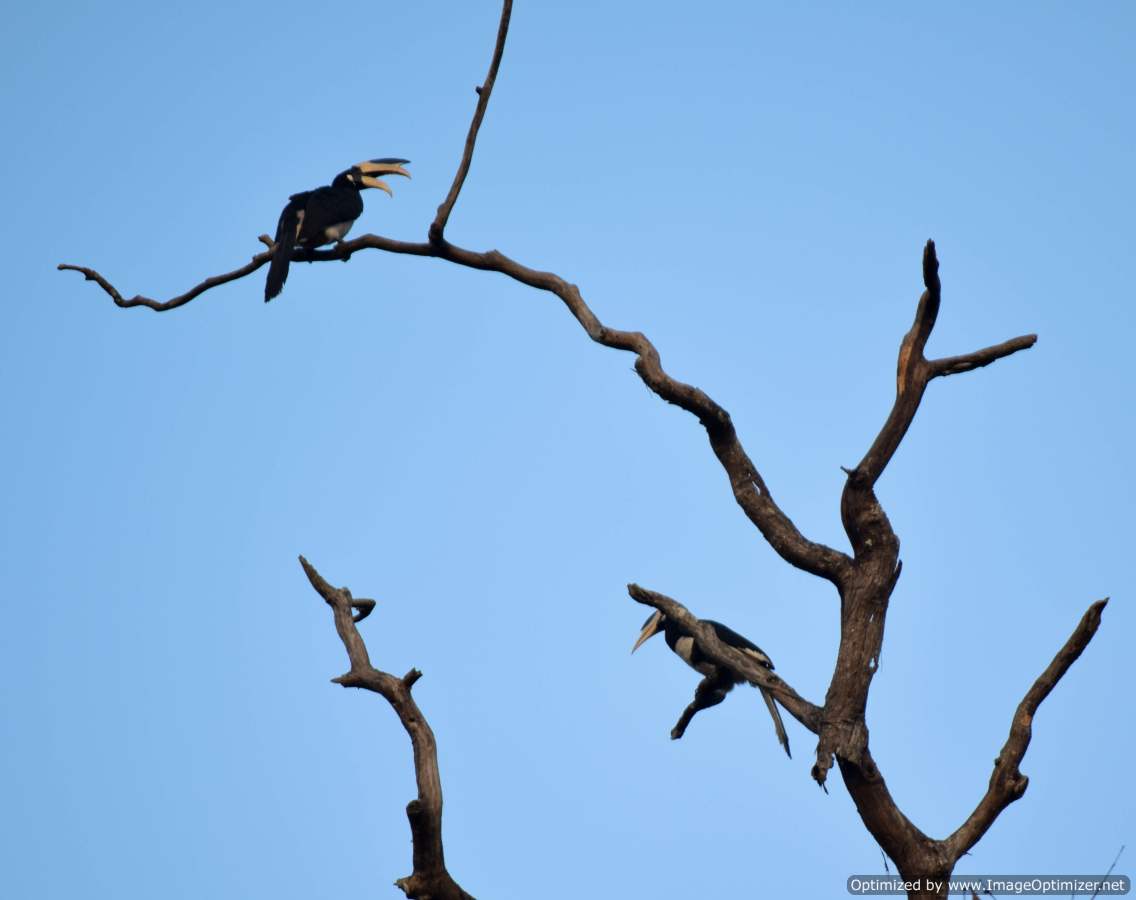 The drive was far from tame as it ribboned through dense to denser forests. And just when we had started to lose hope, we heard a rustle from behind the bushes; the vehicle slowed and then came to a halt. The expert ears stretched, eyes traveled in all directions, five pairs of eyes and ears, all in action to locate the source of sound. Pin drop silence. The sheer adrenaline rush in us had come alive. The forest hushed and then erupted in sound, the birds had come to action, we grinned with delight. "For birds this is like a riot" Prabhakaran added with a hint of both caution and excitement in his voice.
"Some large predator around" I whispered. A slight, assuring nod.
Birds have a whole set of acoustic stuff that is just associated with predators. My first thought went to a leopard as it's more potent to harm birds than wild dogs or even tiger. Studies have shown that animals recognize alarm signals of other species. Some can even eavesdrop on one another across class. The predator could still be far and disinterested, unlikely in our situation, where we had heard some movement. And then Prabhakaran pointed at one end, there was certain movement behind the bushes, the rustle of leaves loud and clear. It was something as black and sly as shadow moving – a black leopard or a sloth bear. No idea, it didn't come out. It had probably sensed us and changed its directions. We could hear it moving and a squawk of birds, sending out a warning call. We kept looking in that direction for a minute or two, our gaze held, as if it we were chasing a dream. So close, we consoled ourselves; we smiled at our fortune or misfortune depends on how you perceive this encounter. But sure, even if for a second, we all wanted to get held by the hypnotic charm of the enigma, black leopard.
"Any words, Prabhakaran?" I gleefully asked.
"Consider yourself lucky, you are going back with a story to tell" he smiled.
But deep I knew the story remains incomplete till the time I record a sighting.
Fast Facts:
Kali adventure camp
by Jungle Lodges resorts is all about organic rush for untamed terrains – gorges, wild rivers, deep, dense jungles, frothing wild waters and tranquil evenings. Situated on the banks of River Kali, this JLR property inspires you to form a connection with raw nature. The camp is a perfect spot for white water rafting on River Kali. Other activities include Kayaking, Coracle Ride, Bird Watching, Nature Walk, Wild Safari, Sightseeing activities etc. Tariff ranges from INR 4,000 to 5,500 for twin sharing.
Old Magazine House
is a favourite among birders, a place to be, to catch breath and evade the urbane madness to be among the winged denizens. Apart from birding, trekking, rafting and kayaking are on the to-do list here. Being on one solitary detour from the main road, deep in a jungle, Old Magazine house lends you the 'never had before' experience. Tariff is nominal at INR 2,120 (inclusive of the package).
(Read my experience of birding in
Dandeli here
)
(Visited 14 times, 1 visits today)
Birding at Dandeli
,
Black leopard sighting
,
Black panther in Dandeli
,
Kali adventure camp
,
Kali river
,
Tiger safari Dandeli
,
White water rafting at Kali
Last modified: January 14, 2017