Nagaland hung in my mind like a dream. With all its history of cordite and crackle of gun, Nagaland is a compelling place, a cultural cauldron of 16 tribes and numerous sub-tribes, hiding the world of animism: head heading, feathered, bearded, horned with warrior mettle; in their sleek jeans and chic hairstyles. But the warrior in them rises, drums are beaten, alarms are sounded, feet tapped and war songs hummed, come every December. A festive air engulfs the capital city of Kohima, tribes assemble, melodious songs and the rhythmic thumping of feet becomes the constant backdrop to the otherwise quiet region, and a massive bonfire is arranged as festivity reaches a frenzied crescendo. The state celebrates the beloved 'Hornbill Festival' not just to mark the statehood but also to take pride in the cultural extravaganza Nagaland is.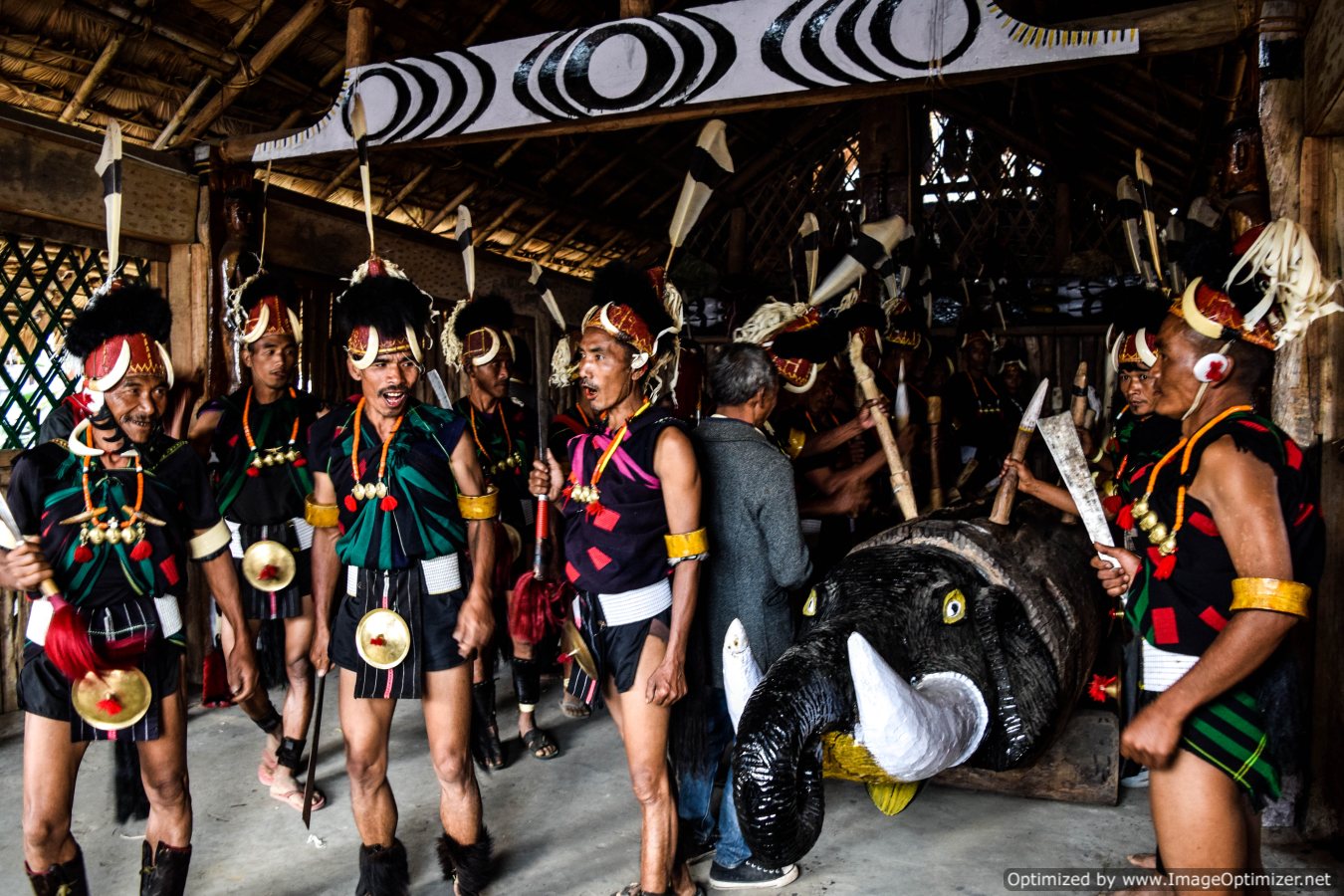 First the facts – Hornbill Festival is organised from December 1 to December 10 every year in Kisama Heritage Village, very close to capital city Kohima. The festivity and fervour of the festival is equally complemented with Night Bazaar in Kohima city. These 10 days are marked with assemblage of all 17 tribes and numerous sub-tribes and is a great window to gain insights of tribal rituals, cuisines, lifestyles and beliefs. And then there are endless activities – from local beverages and exciting cuisine, display of assorted traditional Naga culture in the form of dance and competition, a heritage motor car rally, Naga wrestling, a pork-fat greased pole climbing contest, great public art, exhibitions, handicrafts, fantastic momos and rice beer – a colourful cornucopia of all things Nagaland and North-East India. There is no dearth of options – guilt free shopping of Naga handloom and arts and endless moments of photography. For any traveler, Hornbill festival is like living a long nurtured dream. It's like closing your eyes and be lost to the camaraderie and joy of the Naga people and opening your eyes to get astounded by the sheer amount of colours and sights of this enthralling festival.
The festival itinerary is beautifully set. Tribal dances amaze you, the reds and oranges and yellows of tribal dress, with beatific tribal war masks, explode into a commanding unison, as they present their traditional dances. The evenings are usually set for the Hornbill Music Festival where artists collaborate to give away the most awes trucking songs and gala music and The
Hornbill International Rock Contest
and music festival, organized by the Music Task force.
To add more thrill to the festival, there is a World War 2 Car rally and also a
Hornbill Motor Rally
. There's also a beauty pageant and literature festival. And for the daring travellers, the tenth day has a
Naga chilly eating competition
. Mind you Naga chillies are the hottest in the world and can literally take your senses away.
The itinerary is well packed and however, little time you feel like spending in the festival, do pencil in some time to relish the Naga cuisines. Every tribe has a different preparation and often you will find these outside the tribal huts. They continuously cook the stuff that they make for themselves regularly at home. Try the various preparations of pork and beef and wash it down with some tasty rice beer. And for adventurous eaters, there are preparations of snails, worms and various insects. And food just doesn't end with a walk around the Kisama village; head out to the Night Bazaar in Kohima for a range of exotic food to try.
To stay: –
There are numerous small budget hotels in Kohima, you can also opt for staying in homestays. The official website of
Nagaland tourism
lists this information.
Food: –
Try as much as you can, Naga food is mostly water based, hence light for belly and could keep you going for long. If you relish non-veg, you will love the chicken preparation of Angami tribes. Do try pork with bamboo shoots.
What else:-
Read my blogs on
Khanoma
(20 kms from Kohima) and
Longwa
(village of the head-hunters) to explore more. Spend a day in Kohima for the local attractions.
(Visited 42 times, 1 visits today)
Adventure in North East India
,
Headhunters of Nagaland
,
Hornbill festival
,
Konyak warriors
,
Konyaks in Hornbill festival
,
Nagaland
,
Nagaland Tribes
,
North east india tourism
Last modified: November 21, 2016