One thing that remained high on my mind in my four-day stay in Istanbul, was to sample as much food as I could. Istanbul is a melting pot of cultures, and all these influences pleasantly affect the food scene. This has evolved over years and mixed with different cultures that came and made this eternal city their home. And being the central component of the global food and spice trades for thousands of years, it is obvious that Istanbul has pulled influences from all over the world and melded it into a food scene that has evolved in a truly unique fashion. And that made Istanbul food scenes incredibly varied, historically interesting, and something you can never get enough of.
I enjoy taking food tours in places I travel. But surely I haven't found a place with such an incredibly diverse and overwhelming palate as Istanbul. And Istanbul streets are gracious enough to bring the best to you.
I was especially looking for Doner Kebaps which are a sort of national dish in Germany now but finds their origin in Turkey. And trust me you won't have to look out for it. It's easily available on the streets of Istanbul including dürüm (döner wrapped in lava bread) and iskender kebap (döner on a bed of pide bread with yogurt, tomato sauce, and butter). There are many varieties of Kebap, and my pick of those is the Adana, spicy hand-kneaded seasoned lamb meat grilled on skewers. The origin of doner Kebap goes back to Central Asia where it is known as Lule Kebab, and according to some travel memoirs was brought to Turkey in the 18th century. Here it found roots and became an indelible part of the Turkish culinary heritage. Since then it has evolved, and trust me, it's nothing like you have ever tasted before. Doner is fragrant, crisp, succulent morsels of marinated meat combined with an exquisite medley of flavors from chopped tomatoes, cumin, parsley, red onions, green chili peppers, pickled cucumbers, salt and pepper, and other ingredients one can't even guess. Although you can find these at eateries almost anywhere, my go-to spot in Istanbul for doners is Taksim.
And Doner is just the start to the smorgasbord of foodie delights on the streets of Istanbul. And mind you it's so much to list all. So here I list my picks from Istanbul or at least the ones I could try.
Turkish breakfast – Oh yes, it's okay to name the entire set in the list. Most travelers have steel for a fancy first meal of the day. That sets the course for the entire day. And if Turkish breakfast hasn't made it to your list of fancy breakfasts, then the list is incomplete. For learners, the breakfast habits of Turks are different from that of the Europeans. First, tea replaces coffee here, and second sliced tomatoes and/or cucumbers are a must for a Turkish breakfast. The rest is still comparable, with the breakfast being heavy on the side of choice of bread and the huge display of cheese and jams. Also, black and/or green olives cut, along with creams and eggs. It is usually a large assortment of epicurean delights. It includes various cheeses, like grilled hellim and salty Beyaz peynir; fresh vegetables; several types of bread; cured meats and sausages; flaky pastries, both sweet and savory; and kaymak, a rich clotted cream slathered with honey; all with a constant supply of Turkish tea.
The real catch, however, is the local dishes – sucuklu yumurta and börek. These are served to spoil the guests. Sucuk is a dried sausage made of ground beef with garlic and a variety of spices. And cooked on a pan mostly with eggs it becomes a fatty yet delicious extravaganza, perhaps an answer to Israeli Shashuska. And Börek is made of thin sheets of dough, filled with cheese, minced meat and/or vegetables, wrapped and baked or cooked. These are filling and delightful.
Another addition to the breakfast menu can be the Menemen or the delicious Turkish-style omelet. Menemen is prepared by roasting onions thoroughly with tomatoes and finally mixed with eggs, herbs, parsley, pepper, and grounded red pepper. There might exist several deviations of it with extra ingredients such as cheese, grounded meat, mushrooms, sucuk, sausages, and even chicken.
The Turkish breakfast is usually so heavy that you may not require another proper meal before dinner.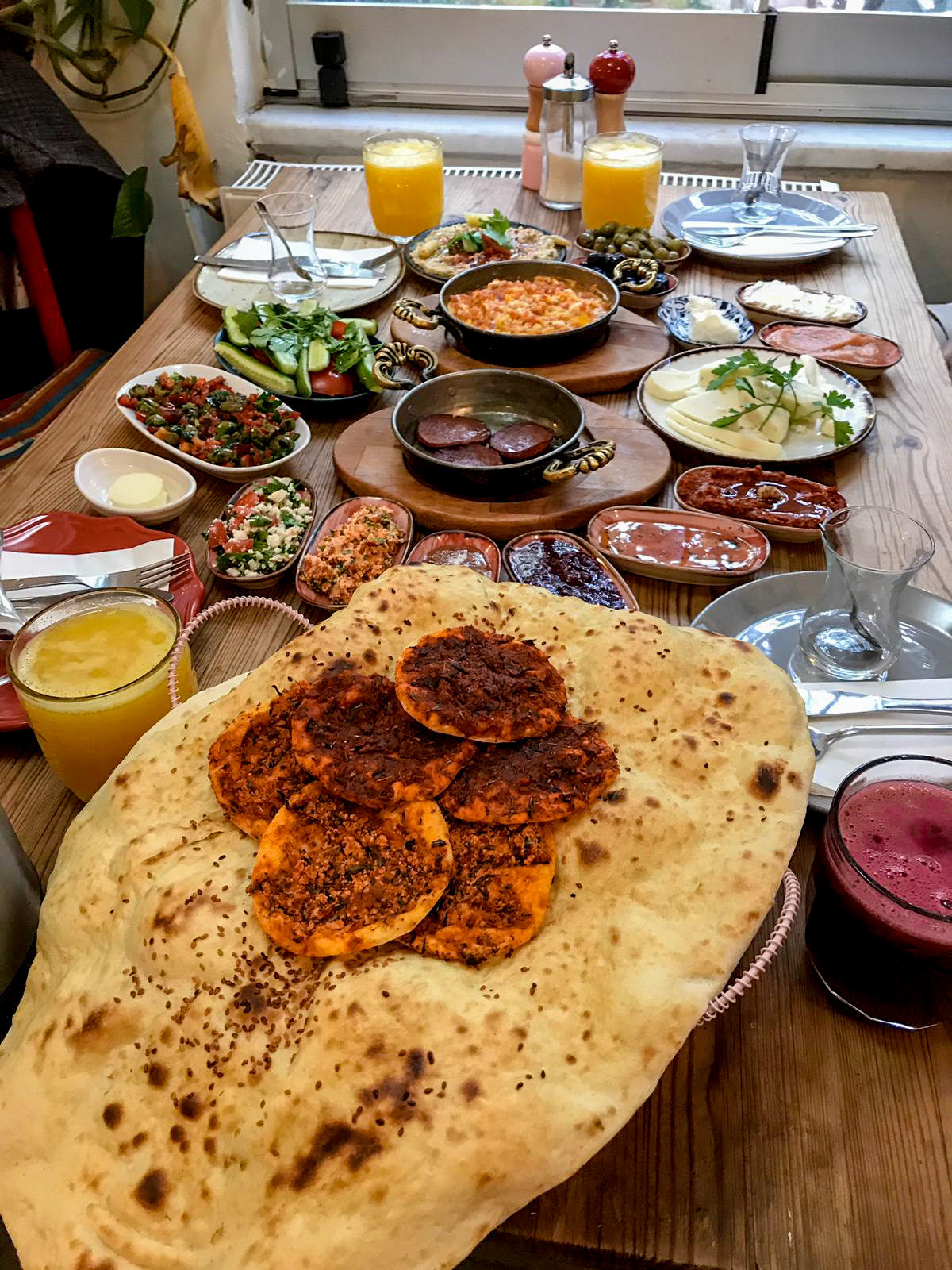 But well, that shouldn't stop you from exploring the streets. The streets of Istanbul are a whole collage of sights, smells, and tastes. So here come my picks –
İçli Köfte – Köfte (meatball) is a standard, easily available yet delicious Turkish dish and içli köfte is notched up from it with a delicious crispy shell filled with seasoned minced meat, onions, parsley, and pine nuts. There are 200 different types of kofte cooked in Turkey, and some eaten with bread, which is also available in scores of styles.
Pide – I think I picked it for its looks than the fame it enjoys among travelers and food bloggers. But this delicious boat-shaped baked dough filled with many ingredients from minced meat to spinach, eggs, and spicy Turkish sausage, is a treat. And its quaint looks and the quainter ways of making it was a real stealer for me.
Kuru Fasulye – What can be so special about beans? But even such a simple ingredient can have a velvety touch when cooked with the right ingredients and herbs. Some amount of meat spices up the taste. But the real deal of Kuru Fasilye is the pilav (plain rice with some cardamoms and cumin) and pickles. It is best to have in stalls near the Süleymaniye Mosque.
Manti and Lahmacun – The former is often referred to as Turkish ravioli and the latter as Turkish pizza. Manti is some kind of dumplings with fillings of grounded beef or lamb, and Lahmacun is a thin and crispy round of dough topped with minced seasoned meat, which is complemented with a squeeze of lemon and parsley. Both are served with yogurt or tomato sauce, with some extra dash of spices.
Misir – Or the freshly boiled or grilled corn on the cob, often sprinkled with salt or spices. This brought my school days back to me when I used to stop at hawkers outside the school gate to an ear of grilled corn. And just like India, Istanbul loves corn.
Simit – My unforgettable companion of the Istanbul streets – the humble pretzels. And you will find many street sellers selling Simits in their glass-fronted push-cars around the tourist spots.
Yogurt – Yogurt is an anytime snack. Here it's slightly tangy, and the Bulgarian-style yoğurt comes with a choice of three toppings: powdered sugar, honey, or rich, thick berry jam. Hop over to the Asian side of the Bosphorus to enjoy some nice culinary experiments with yogurt.
And then there are some favorite spots to sample the street food. Like the waterfront neighborhood of Eminönü where you can spend hours sampling the street food in and around the 17th-century Spice Bazaar. Try the grilled fish sandwich at one of the stalls with the typical drink of Turkey, Ayran.
Just walk over to the favorite spots, the Taksim square for meats, and doners; the backstreets of the Grand Bazaar for desserts, cheese, and Anatolian pastries; or just cross over to the Anatolian side via a ferry ride to the bustling district of Kadiköy, an Anatolian port situated on the northern shore of the Sea of Marmara. Kadiköy has a wonderful street food market with fresh fish, fruits, and vegetables, and tantalizing candy and pastry shops, excellent lokantas (simple restaurants), as well as superb delicatessens and pickle stores.
Desserts – Turkey is world-famous for desserts. And the first name that comes to mind is the flaky, buttery, fresh baklava, the most well-known of all Turkish desserts, made of many layers of filo dough. The colorful varieties of lokum (Turkish Delight), which have been the most loved gifts since the Ottoman era, can be found in almost every pastry shop, along with halqom, cookies stuffed with lokum. Turkish desserts move way beyond the pastries, and even pastries are often filled with cheese, nuts, and even grounded meat, soaked in layers of honey or sugary syrup. My favorite was the kunafe, a cheese pastry soaked in sweet syrup and topped with pistachio nuts, and sütlaç, and I packed a load of Turkish delights or Turkish candies.
Istanbul is chaotic, with adrenalin inducing pedestrian traffic that ebbs and flows throughout the city day and night. The street food is tailor-made for this human tide. It is almost captivating to imagine the wide assortment of culinary innovations on the streets of Istanbul. The street food is fresh, simply prepared, delicious, and inexpensive. And above all, Istanbul's street food reflects the cultural diversity of the city that has been at the crossroads of four civilizations over more than 3,000 years.
(Visited 7 times, 1 visits today)
Baklava
,
Bosphorous Istanbul
,
Grand bazaar Istanbul
,
Hagia Sophia in Istanbul
,
Istanbul
,
Istanbul food
,
Istanbul tourism
,
Spice market Istanbul
,
Turkish coffee
,
Turkish delights
,
Turkish food
,
Turkish tea
,
Unseen Istanbul
,
What to do in Istanbul
,
what to eat in Istanbul
Last modified: September 26, 2021