A ramshackle fishing village, now sidelined by an ever increasing number of hotels, bars, guesthouses and bikini clad backpackers; drawn by pristine white sand beaches, turquoise sea, sparkling sunshine and an ever-lasting sense of liberation; Nungwi village is among the biggest draws in Zanzibar. By day, the sunbathing tourist slumber, indulge in lemongrass massage or join the locals for some reef fishing when the tides are low or passively cycle through the old fishing village to soak in some rustic freshness of this beach village, perhaps the largest in Zanzibar Island. And as sun sets, this sleepy village buzzes with party spirit. Beach bonfires, music and cocktails blaze the village till dawn. Aging couples, honeymooners, gap year students, cool dude and backpackers from across the globe are drawn to this beautiful beach village.
An hour long drive (costing upto USD 30) brings you from stone town to Nungwi village. Check in one of the numerous hotels (of all sizes and prices) and set off for an exotic holiday romancing with cool sea breeze and sparkling white sand beach.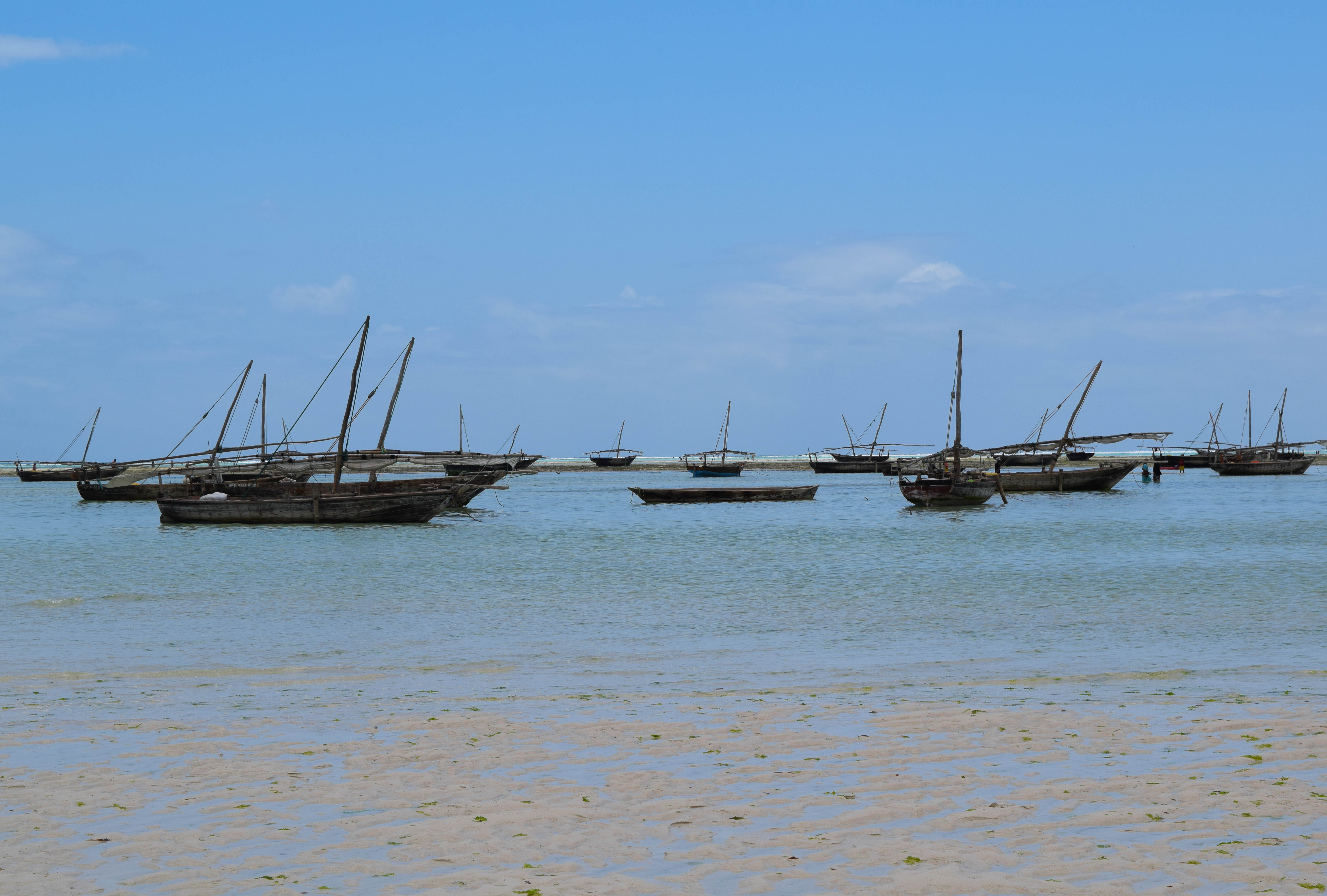 The moment I had landed in Zanzibar, I knew that one need not look for reasons to like Zanzibar, one will just fall in love with it. An hour long drive from old town through the countryside and a section of a road that runs parallel to the coast, was compelling me to get more involved with Zanzibar. And then a bit of rough section of the road brought us to the sleepy, conservative fishermen's village Nungwi. In its first look it looked different from the clichéd mélange of traditional and modern of Stone Town. There hung an air of liberation in Nungwi. The water felt smooth and inviting and a group of backpackers in safari T-shirts were almost everywhere in this little piece of paradise. The white sand shone dazzled, and seemed calling out to hippies and bikini clad beach-hoppers to deluge in this pristine fantasy. Small outlets lined on the beach sold almost everything – from mediocre paintings, to coconut water to alcoholic beverages, to the tan lovers.
I was quick to get to the ocean; for an 'island escape', a 'getting away from it all' experience. I could only dream of a long day, relaxing on the beach, soaking the soothing sun rays on an endless white beach and float on deliciously cool waters of an azure blue ocean.
Apart from being such a fabulous beach destination, Nungwi is also famous as the coolest party destination in Zanzibar. A mere 15 minute drive brings one to Kendwa rocks, famous for hosting beach parties.
Episode of the drug peddlers
Oh yes! This too happened and is quite unforgettable. I was resting on a hammock (for a person from tropical country, beaches can get too boring). This boredom is usually broken by entertaining acts of local kids and beach boys, trying to sell you snorkeling tours or wedding proposals (if you are a lady). And amongst all this, I was almost woken up from dreams, by two men. Could be that I was alone and was thus, taken on a spot by them.
They were drug peddlers and had started giving me quotations of the sample they had. We had a fairly tough negotiation war, starting from $200 to an ultimate price of $50. Ironically I had only $2 in my pocket at that time. I tried my best to tell them this, but by that time they had taken me as their 'to-be-customer' and kept coaxing me to strike a deal with them. Leaving the hard drug, they quoted a price of $5 for marijuana to me. The conversation was eventful and before leaving (after believing that I have no penny), they told me where I can find them, if I need to avail their services.
Watching the locals
The real fun in Nungwi is to live life (atleast a part of it) like locals. And this again best revolved around the beach. During the low tide, locals come out to fish the mollusks and echinodermates as they are left behind by the receding waters. One can absorb oneself walking on the sea bed, watching the locals make a living from these organisms. Watching them beat an octopus on a starfish or collecting clums or young boys collecting shells from the sand, is an absorbing experience.
And when done with it, a nice stroll through the village, to savour some local flavor, watch the ladies get engaged in local arts, young boys play and men enjoy a relaxed life, guided by the sun, sand and sea. Nearby is a turtle sanctuary where turtles, which accidentally get caught in the fishermen's nets are brought to be nursed, rehabilitated and then released back to the waters.
If not getting tanned, then what?
Now this is my question, which I must have asked in every beach I have been to. Coming from India and having lived temperatures as high as 48 degrees, sun usually gets too boring. Morning and evening stroll is fine, but I literally need more stuff to do in the noon in any beachy town. Thankfully Nungwi didn't disappoint me. Some 50 Kms from the beach is Jozani Chawka Bay National Park where you can spot the extremely rare red Columbus monkey and maybe Zanzibar tree hyrax. Close to it is a butterfly center, with hundreds of butterfly, all native to Zanzibar within a netted enclosure.
There are options to try in the Nungwi beach as well. Kite flying, parasailing, beach volley, snorkeling, reef fishing are quite famous here. Or a hop to nearby Ushongo beach, with its 'no beach boys' charm and warm waters is quite a puller.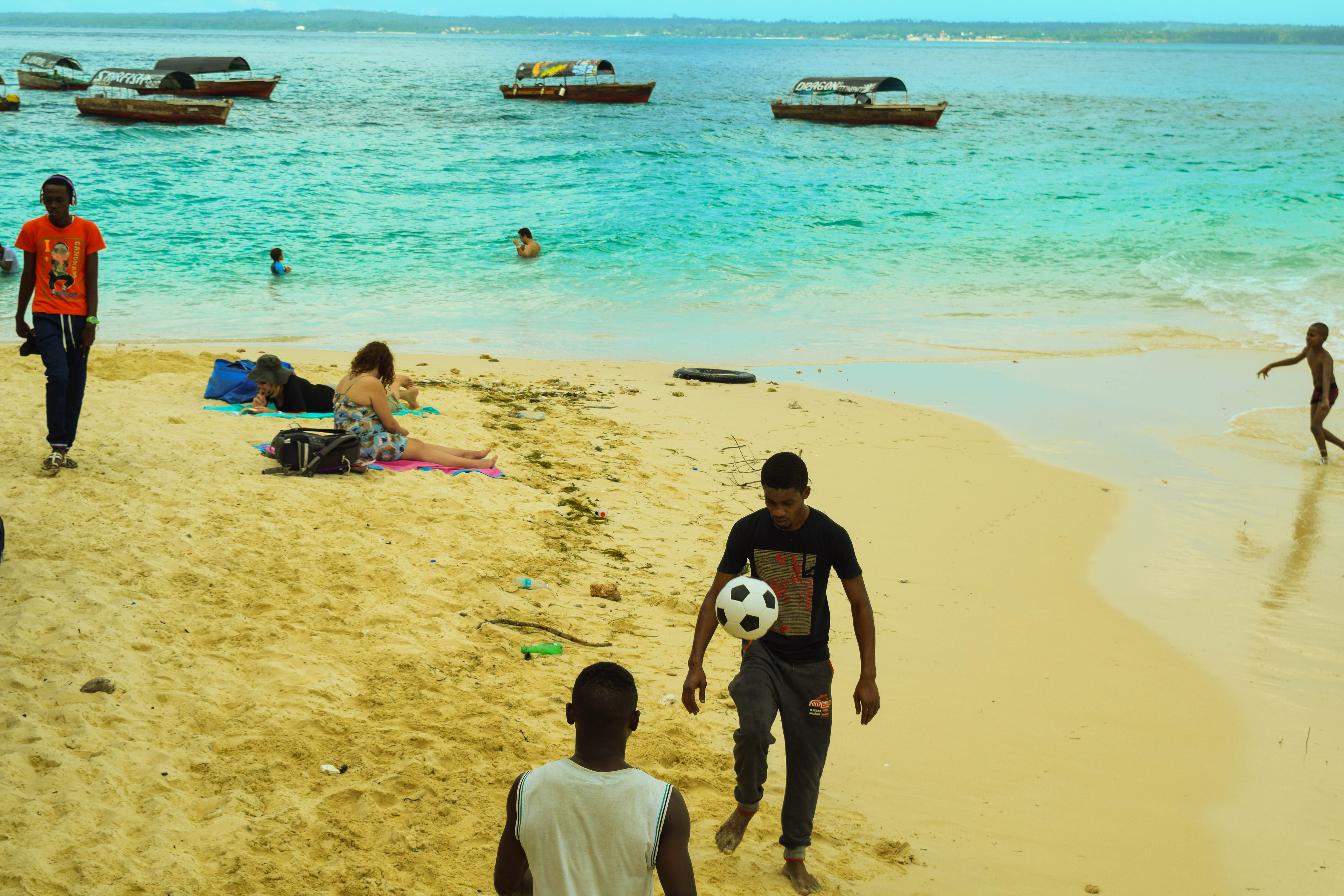 I tilted in favour of a long drive to Kasimkazi, for dolphin spotting with a hop at the Jozani National Park. The entire trip cost me $75 (including entrance fees).
And if you don't want to do anything, walk around the ship yard, located next to the ocean, where crews of men build beautiful new boats by hand and opt to take a dhow cruise at sunset. Peacefully sailing with the breeze as the sun slowly declines over the Indian Ocean, is truly a majestic way to spend an evening.
(Visited 8 times, 1 visits today)
African safari
,
beach party
,
Nungwi
,
Tanzania tourism
,
Zanzibar
,
Zanzibar beach
,
Zanzibari food
Last modified: November 27, 2015