Stories abound in this fort. Wrapped in history, Chittorgarh Fort has been a textbook lesson on valour, honor, sacrifice and never to fade aura of romance. Haunting silence of the innumerable historic episodes, that found a setting here, still echo in the ruins. Every corner seems to have a story to tell. "You must have heard the story of Queen Padmini" said my driver with a toothless smile, as we whizzed past the lanes of this living fort. Chittorgarh, has been a part of history lessons, taken as an epitome of Rajput valor and pride. One of the oldest surviving forts of India, it was actually built by the Mauryas. Over centuries, it changed many hands, seen many battles, but its grandeur only increased with time. Even though it stands in decay today, it gives you a feeling of awe and magnificence of ages and periods of history, these buildings have seen.
Chittorgarh was once a fortified city and the capital of Mewar Rajputana (Southern part of Rajasthan), before falling into hands of Khiljis, then ruled by Gehlot and Sisodia dynasties from 7th Century AD until captured by Emperor Akbar. Today this stunning fort is a UNESCO world heritage site. This was my second visit to Chittorgarh, infact Chittorgarh was my introduction to Rajasthan, when I had combined it with Bundi. As I entered the gate (Pol), frames from my first visit, flashed before me. In a minute, Chittorgarh turned into a bouquet of emotions for me.
The history of the fort epitomizes Rajputana romanticism and valour. The fort was attacked three times (in 1303, 1535 and 1568) and each time, its inhabitants chose death over dishonor. The men rode out of the fort to certain death and women and children immolated themselves on a holy pyre to save their honour from the enemies. Such a history evokes a different reaction in you. As an avid history reader, a person who loves tracing roots of events, I have never seen the winner and the vanquished in two lights, everyone was a warrior. We develop these shades, the tones of black and white, the dirges and the paeans, tales that travel through generations stamping labels on kings, queens and their subjects. These tales which reflect the writers' perspectives, and often these tales go way down, and are told and retold so many times and to so many people, that they become the identity of the place. And Chittorgarh is no stranger to such tales, some historic events turned fables and some crafted to entertain the audience. Chittorgarh is full of such tales. And it does have an illustrious history, which can form the base of many folktales. And one such is of a beautiful queen Padmini and an enamored king Ala-ud-din-khilji. It is said that Khilji was infatuated by Padmini's beauty and that made him attack Chittorgarh, the king of Chittorgarh fought till his last breath, but failed to save Chittorgarh from Khilji. Queen Padmini, knowing of her king's fall, chose to immolate herself in the holy pyre to, be taken by Khilji as wide or mistress. Set in medieval era, Queen Padmini was the subject of several ballads, fantasies and poems, penned by poet Malik Muhammad Jayasi. Going through historic documents, you might not establish any authenticity of this tale, but this is what Chittorgarh has chosen to identify itself with.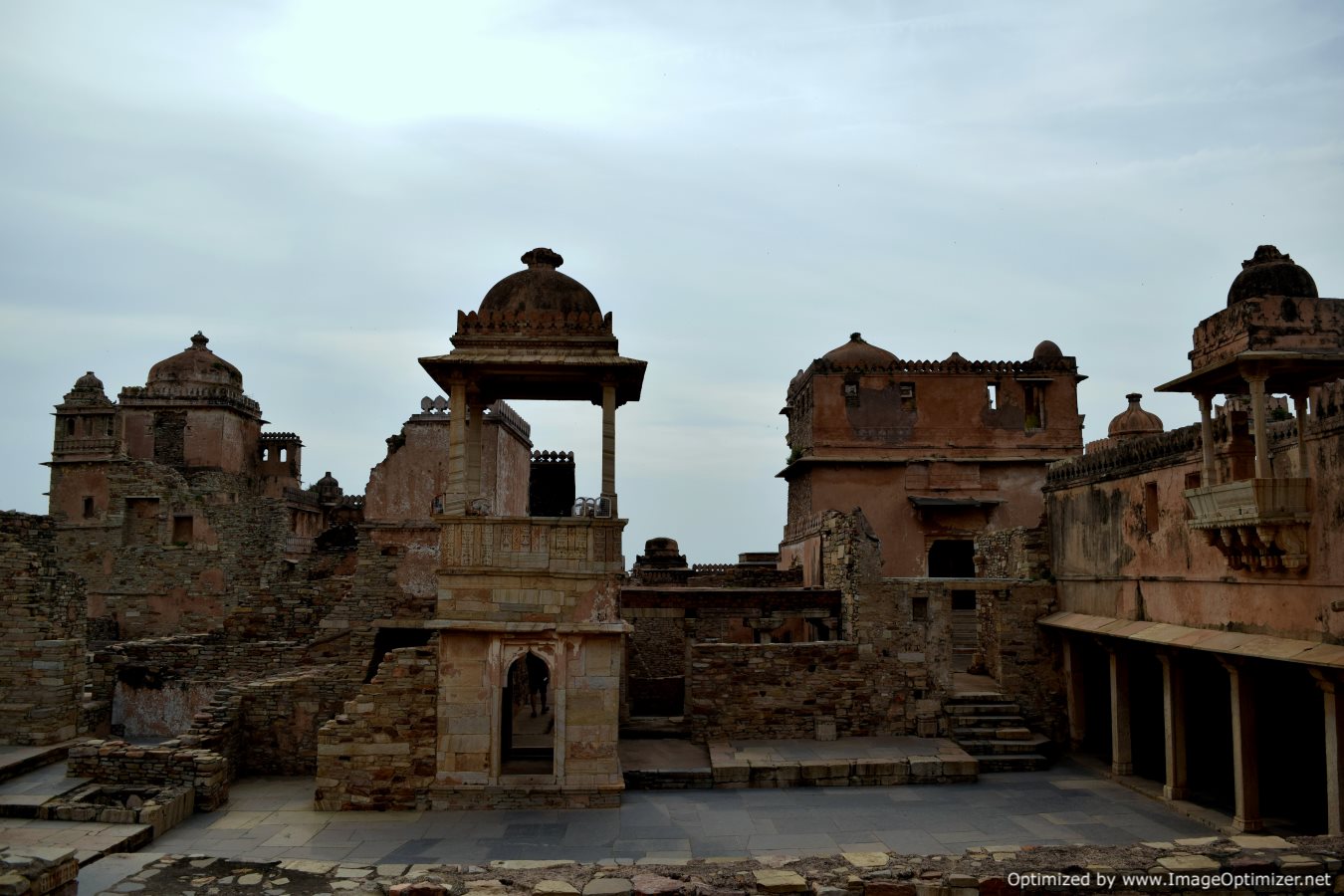 Built atop a hillock, the fort overlooks the sleepy town, as a royal guardian. There are seven gates and over 60 monuments, including four palaces, memorials and scores of temples and several water bodies in the fort. Though most of these monuments are in different states of ruins, but as you walk along these crumbles, you live those tales. In the Rana Kumbha Palace, screams of tens of thousands who immolated themselves when the Mughal emperor Akbar attacked the fort and defeated Rana Kumbha, still seem to echo. Even in crumbles, the palace stands as a beautiful spectacle of architecture. Every brick in the palace can turn a storyteller, for you.
Another major landmark in the fort is the Victory Tower, with nine storeys and 122 ft tall, built to commemorate a victory and later used to keep an eye on the enemy's army. Saying that the tower can keep you in a click frenzy mode for hours, won't be an exaggeration.
At a stone throw away distance from the victory tower is the section with the emerald tinged waters of the Gaumukh reservoir. But probably the best part of the fort is the Padmini palace, the epicenter of tales that made Chittorgarh fort an indelible part of Indian medieval history. As you walk through those walls, you find yourself closer to those stories. "This was Rani Padmini's room" my guide said as I kept shifting my gaze from one building to the other. I took a short walk towards the edge that overlooks the Padmini Lake. The sun burnt low, its rays touching the soft ripples of the water body, embellishing it with its molten highlights. On the edges, was an arid landscape, as if left untouched, eager to embrace you and take you back to those ages, the formidable fort turning into a battlefield, when thousands of women chose honour over life, the victories, victory tower had seen and smiled at and the hub-bub of life that once defined this fort. All lives today, but there still seems a deep chill as you walk these monuments, the silent screams echo through the walls, every little monument ready to turn a story-teller and take you beyond the ballads of Malik Muhammad Jayasi, as if calling you to know the real Padmini, the real Chittorgarh, as it existed, fought, died and then revived.
To reach: Chittorgarh can be covered from Udaipur. It's about a 100 kms from the lake city of Udaipur and could be covered as a one-day detour.
(Visited 10 times, 1 visits today)
Chittorgarh
,
Chittorgarh Fort
,
Padmavathi story
,
Queen Padmavathi
,
Queen Padmini
,
Queen Padmini tales
,
Rajasthan Forts
,
Rajasthan forts and palaces
,
Victory Tower Chittorgarh
Last modified: December 3, 2017