Ghent might be less renowned than its classy neighbor Bruges, but it is still bags full of history and culture. Being a university town, it is buzzier and looks less Disneyfied than Bruges. Across its canals, are endless opportunities to lose oneself in its narrow lanes, that take you to fascinating squares with splendid churches, magnificent castles, and comfortable cafes and bars. In the Middle Ages, Ghent grew both in reputation and riches on cloth and wool and was the second-biggest town in Europe, after Paris. Today the medieval heritage still lives, on an old merchants' street that runs along the bank of the Leie River. The street is steeped with Gothic guild houses with stepped roofs and ornately carved facades. And a little east of this street, are two of Ghent's great monuments, St. Nicholas church and St. Bavo Cathedral, a splendid display of riches, and dexterity in craftsmanship Ghent has seen.
One of the great things about Ghent is the way it has managed to reinvent itself and accommodate the contemporary. The heritage alleys are now awash with themed cafes, rib joints, and hidden restaurants offering Ghent's local specialty, waterzooi chicken soup. The eat-out culture is pacing up, with young people starting up new bars and cafes, bringing in palates with cultural mixes, dishing out novel ideas. The municipality has also been supportive in encouraging novel, entrepreneurial ideas, and giving headway to anything tastefully related to arts and graphics. Designated places have been allowed for experimental artistic collective, and concerts. These changes aside, through which almost every city goes through, Ghent has remarkable in maintaining its strong character. Some old spots have just worn a new look, and new age, experimental chefs, are doing their bit to upscale the culinary heritage of Ghent. Young chefs prefer to experiment in these cafes and old favorites, to follow culinary and fine dining norms in Michelin star restaurants. There's more fun in investing energy and creativity in preparing no-nonsense menus, than following the set routines of upscale, dining places. And no wonder, some of these joints remain on locals and travelers pick list and run full all time of day. Some, like the Vrijmoed and Oak, remain overbooked and have evolved as Flemish foodie symbols.
Ghent never goes slow on art. It's embedded somewhere deep in Ghent's character and life. Apart from the DOK, which has evolved as a temporary cultural project in an area where the old harbor and the border of the city flow into each other, Ghent's streets are a vibrant display of art and design. Artwork of local, lesser-known painters can be seen all over the town. Be on the look-out for the impressive graffiti by Roa and Bue the warrior. Also make a mark at the junction of Sleepstraat, Grauwpoort, and Rodelijvekensstraat, where almost Ghent street artist has made a tableau.
To add to the flavor of art and design is the must-visit Blanco Gallery, a space inside the Nucleo studio complex. But these days art is thriving outside the walls of galleries and studios, in the young and fresh space of DOK, an artist-run exhibition, work and concert space in a space which once used to be a welding factory. Intriguing, and that's what Ghent is, with its alternative cultural spaces, and a culture of street art, reviving the artistic and cultural past of the city, one place at a time.
Be it art or music, Ghent has learned to make the alternative, mainstream. Ghent's musical scene is vibrant and still emerging. One reason why it has been making such a mark in the global music scene is the availability of opportunities to turn basements to studios. The scene in Ghent revolves around many genres, the psychedelic hip-hop, local rock, the experimental drones, EDM, to a crazy mix of jazz, hip-hop, and funk. There are always free concerts happening somewhere, and as all Europe does, street corners turn into musical platforms, and the passersby the loyal audience. And one of the iconic buildings to mark in the list is the Vooruit, which is the former socialist arts center and meeting place, once combining a theatre with a supermarket and a big hall. Since its revival by a group of artists in 1980s, it has remained the cultural emblem of Ghent. Deeper down, there are always new spaces evolving. Dominating the music scene these days are O19, Gouvernement, and Kerk Gent.
In Ghent, its music and art, mix well with its café scenes. For great cocktails, and food, my pick is Mosquito Coast, and a customary stop at the De Mokabon, for coffee is a must. This small, popular coffee bar and roastery was founded in 1937. Ghent food scene is just incomplete without the mention of these two places, along with the travelers favorite Oak. One place, I had fervently researched, but failed to be at (and that's why it needs a definite mention) is the Gustaf, where owner Xavier discusses with you your choice of coffee and makes drinking coffee a personalized experience. Ghent's café culture is vibrant, and you can pass woozy afternoons in Ghent's many bars and restaurants. And do choose your place, to try the classic waterzooi stew.
Passing through the old streets, Ghent gives a quaint feeling, of a certain time-wrap, a city that lives in the present, and loves the past. The Castle of the Count is a constant reminder of its brilliant past. Built not for defense, but for keeping the recalcitrant, a visit down to its dungeons is a path down to the eerie past of the city. And certainly, the un-missable are the Gothic spires of St. Bavo Cathedral, one of the town's recognized landmarks. But inside, the Church is the real treasure and hosts the famous Jan van Eyck's 15th-century altarpiece Adoration of the Mystic Lamb, a towering, multi-panel painting. That's some memory to last forever.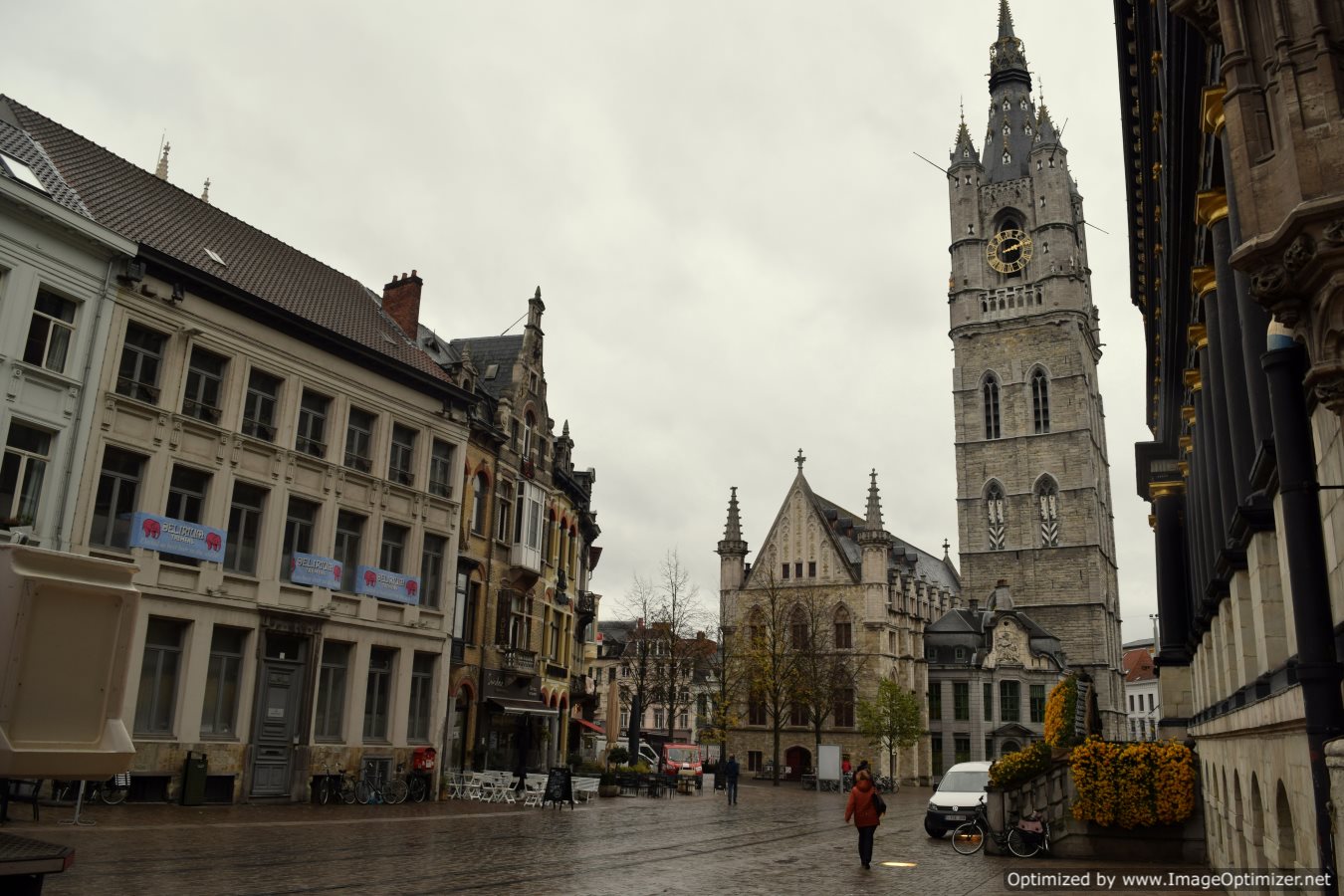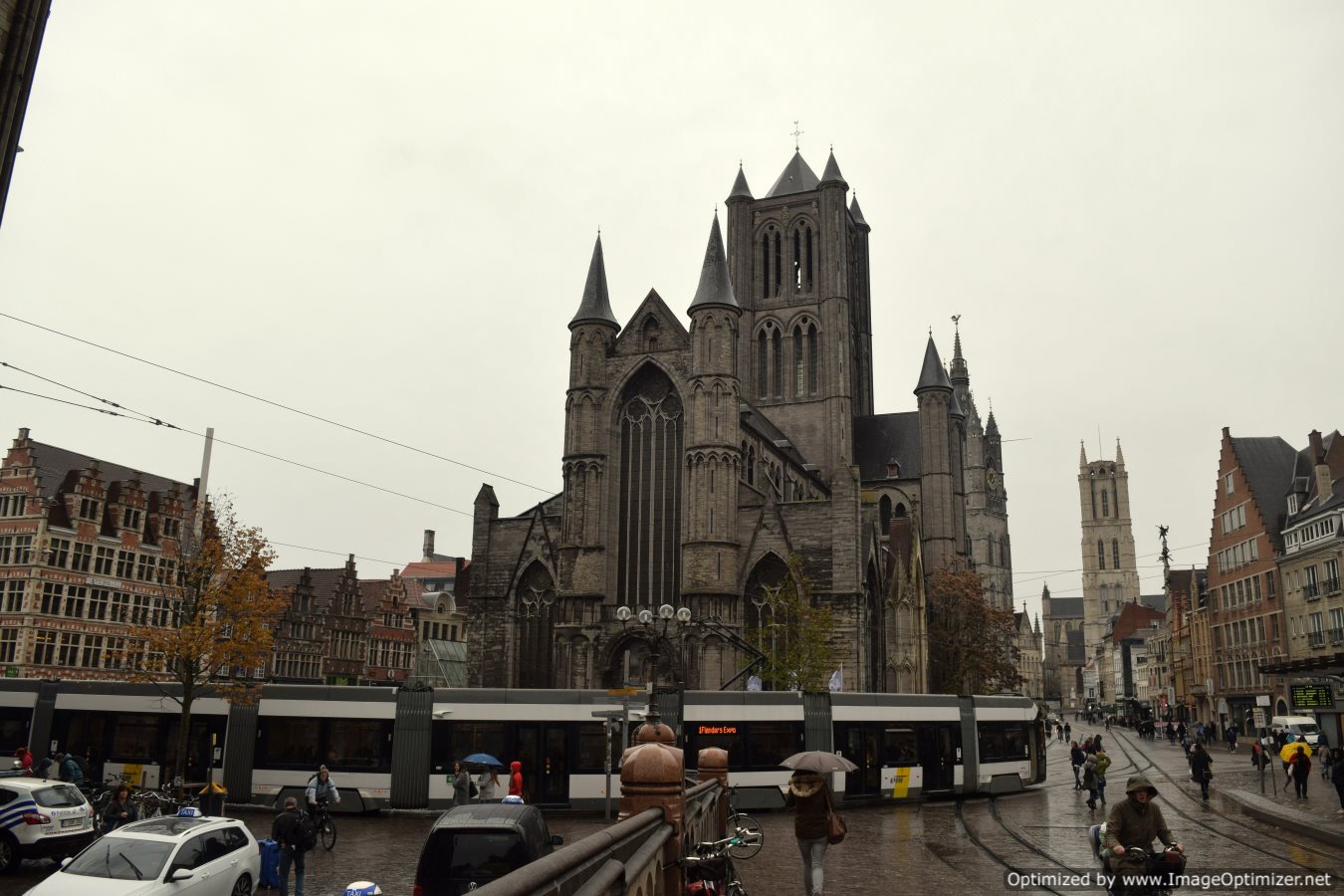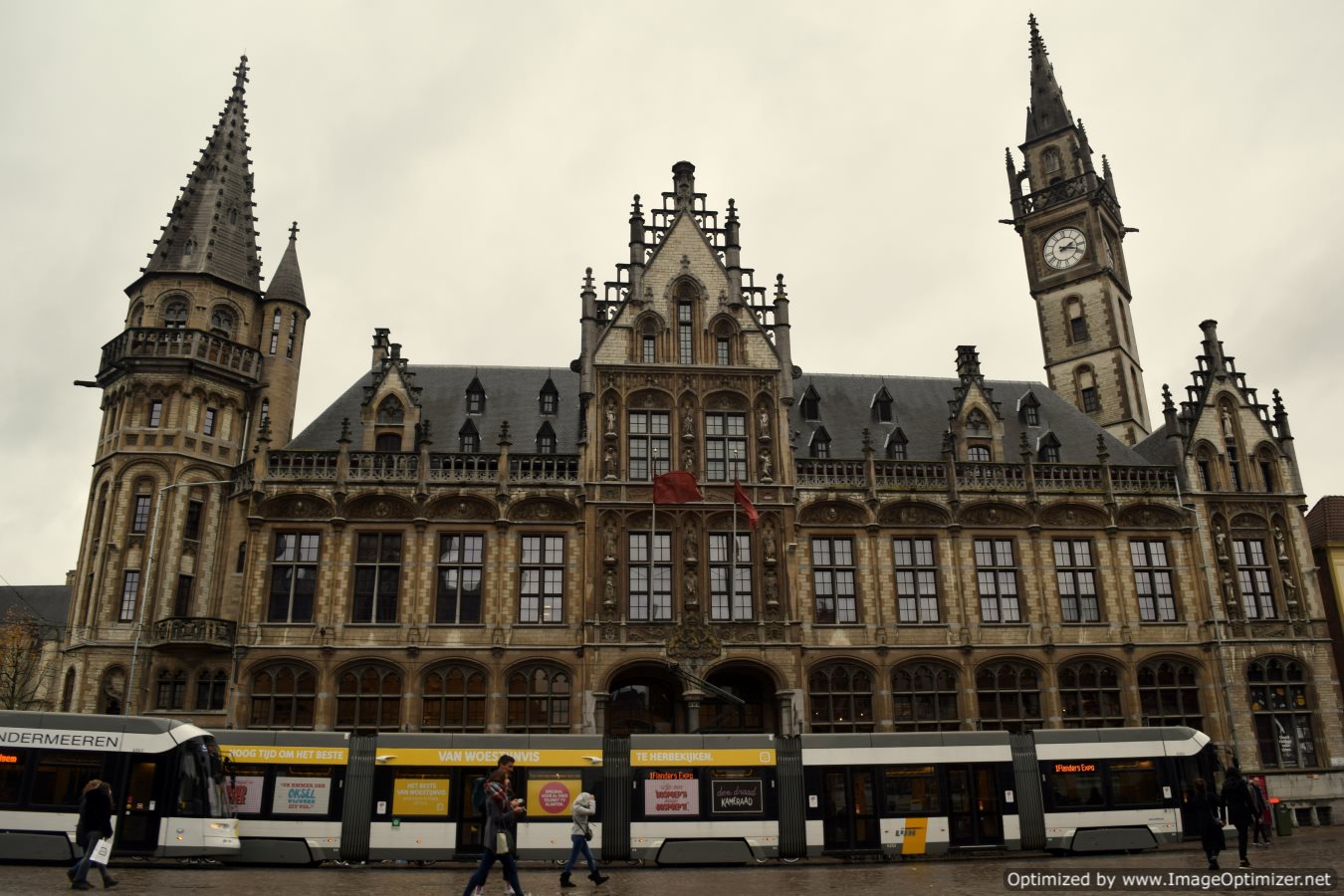 I ended up spending a lot of my time strolling up and along the harbor, admiring the old Gothic styled buildings, catching an eyeful of the churches, visiting old and refurbished markets, taking my notes on the evolving café scenes in the city, and stopping to take a sip of coffee and indulge in some talks with the locals. Gentians are incredibly friendly, and pride in their Flemish lineage. More than that they take pride in the fact that Ghent has been the epicenter of many novel ideas. Apart from the new age music and art scenes, Ghent has happily embraced new ideas of veganism, urban farming, and biking. Ghent aims to make the city life become synonymous with walking and biking (like Amsterdam), nowhere else you will find as many vegan restaurants as you will in Ghent, and a new revolution of urban farming to make the city sustainable, is underway. Standing at the harbor, looking at the St. Nicholas church, and the Gothic buildings, I wondered how beatifically Ghent, has reveled in its history while making new edges towards the sustainable future.
(Visited 8 times, 1 visits today)
art scene in Ghent
,
Baroque architecture
,
Belgium tourism
,
Belgium travels
,
Bruges
,
Brussels
,
Cathedral in Ghent
,
Flanders region
,
Flemish architecture
,
Flemish history
,
Ghent
,
Ghent fashion scene
,
Ghent old city
,
Ghent street art
,
Ghent travel
,
music scene in Ghent
,
Van Eyck Ghent Altarpiece
Last modified: July 8, 2019