Akko, an ancient seaport in Northern Israel, packed with tales of war, culture, faith, and a history spanning for over a century, serves up mouth-watering meals from dueling hummus shops to indulge worthy seafood restaurants. As a traveler looking for Middle Eastern culinary experience, Akko leaves you spoilt with choices and chances.
Your quest for best foodie experience ends here
To be candid, food could in itself be a reason to visit Israel, and in Akko, you probably get the best choices with the obvious amalgamation of Arabic, Turkish, Bahá'í, and Israeli tastes. As a city that has always lived on the edges of cultural unification, Akko brings in a rich potpourri of options, housed in cute, comfortable cafes and bakeries to bragworthy names featured in several food documentaries. The Eater Travel, the global food guide published by Eater, a food and dining network of sites owned by Vox Media, named Akko (Acre in English) "Where To Eat in 2020" list. And all at an enviable rate, at times at almost one-third the price in Tel Aviv.
From postage-stamp-sized eateries tucked in one of the alleys of the bazaars of the Old City, featuring a single stove and a handful of tables to sit, to lavishly designed restaurants, Akko is a den of scrumptious flavors. The ethnic diversity, and influences from diverse cultures, are easily seen in the food scene. Here, coffee comes spiked with cardamom and Yemenite hawaij, walk-up bakeries sell kanafeh pastries, and spices, olives, dates, tahini, za'atar, rare Arabic herbs all come easily in the lavish bazaars.
Uri Buri restaurant: The start of the foodie journey needs to be from the Uri Buri restaurant, known for the seafood choices. You are most likely to be recommended by other travelers to Uri Buri, such is the fame of this restaurant. Some like me will say that Uri Buri is not just a restaurant, but culture and Uri Buri could be a reason enough to keep Akko in the travel itinerary. So keep your choice list ready with salmon sashimi freshened by wasabi sorbet, prawns and artichoke swirled into a buttery, black-rice noodles, fresh fish, or sea bass simmered in coconut milk and apple, and your table reserved in advance. Want more assurance to head here, the eatery was featured in the documentary "In Search of Israeli Cuisine," which is available on Netflix.
Humus Said: And Uri Buri isn't the only one – to search for the best food in Akko, you need to ask yourself simple questions like where will I get the best Hummus (Israel trip is incomplete without it). The answer to this could possibly evoke a debate, however, an easy pick to avoid debates could be Humus Said because of their fresh, homemade ingredients and the incomparable hospitality. Located in the old city's vibrant Arab market, Humus said has been serving possibly the best hummus in Israel for generations, and the smooth, creamy consistency of their Hummus ever fails to leave your soul nourished.
Donianna: And in case you are looking for some food with dreamy views, head to the Donianna, perched over the Mediterranean Sea facing the old city walls. The grand collection of seafood, and fresh catch, along with some adroitly made vegan cuisine, coupled with dreamy views of the sunset over the old city walls and the port, should be a reason enough to head here.
El-Masra: The food scene of Akko would be incomplete without the mention of El-Masra. It's location on the Akko port, overlooking the sea, situated on a remodeled 13th century home, and steel for antique artifacts in its décor gives El-Masra a special dining atmosphere. And then the food, from the choice of fresh catch, shrimps to fillet of local catches, enviable choices on the meat menu to a choice of interesting desserts makes El-Masra an experience to add in your itinerary. Chef Alaa Musa, a local who worked at several Michelin-starred restaurants in Sweden, offers a nuanced cuisine of Arab food mixed with modern twists.
Kashash: What is a visit to Akko if you haven't indulged in Kanafeh, a crunchy pastry mixed with cheese and dipped in sugar. And the list doesn't stop at Kanafeh, this old shop in the old city is a place to go to satiate your search for Middle Eastern sweets from Baklava, circular Kanafeh called bird's nest, date and cheese-filled cookies, fluffy dough pockets, and many Arabic sweets. The moment you enter, you are hit by the tempting smell of fresh pastries, and then the glistening rows of orange-brown gems. The fame of his humble outlet has traveled far, and chefs from all over Israel and outside come to chef Akram to learn more about the traditional sweets.
Abu Adnan's bakery: One of the hidden gems in the old city is Abu Adnan's bakery which still uses a wood-burning oven. The old baker, Fahri Bishtawi (in his late 70's) only bakes at times in a week, and when he does, oh what a sight his humble shop becomes. The product is a simple flatbread, baked freshly, and with Zaatar or tomatoes and onions. The local children leave wood next to his shop, for his oven. Do halt by here to have these pita bread wrapped in newspaper, and to reach just ask for directions, and maybe like me, some local kid might take you to the shop.
Madalli: Located in the Turkish Bazaar, Madalli won't prove a difficult place to find. This is a tiny outlet serving home-cooked Arab food, and stellar vegetarian dishes, and the eatery sources all its ingredients from the surrounding markets. The eatery though small in size, is a den of young, creative talent, and all one needs to do is ask for recommendations, and relish the sights, the smells, and the feel as the traditional cuisines are served in the most modern of fashions. Recommended by many travel and food bloggers, their waraq dwali (stuffed grape leaves) are a must.
Mercato: Perched in some random corner of the whimsical art and a craft Turkish bazaar, Mercato is a cozy, warm Italian-Israeli eatery, which serves a range of options from traditional and creative dishes from the tandoor (traditional oven), to Italian food from pasta, calamari, to pizza giving them a local Israeli-Arabic touch.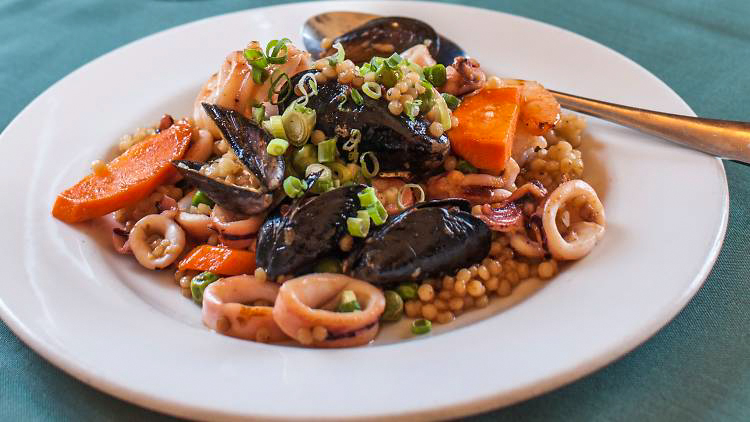 Hummus Ful Shamsia: Perhaps the most revered and coveted dish in Israel and only a few places come close to serving hummus as good as Hummus Shamsia in Acre's Old City market. And in Hummus Ful Shamsia, the matriarch hand grounds the hummus with warm chickpeas, parsley, and olive oil on top, serving more typical 'village-style' humus (less oily than the others). In all servings, hummus comes with pita bread, olives, and salad on the side.
Michael Bistro: Michael Bistro brings the tastes of Galilee. Chef Michael Gertofsky left Tel Aviv to open a bistro in Akko. Though it's a little far from the main city (20 minutes' drive) it's a stop worth going to for fine embellishment of Northern Israel cuisine with Italian tastes.
Weizmann's street: This is to take you out of the cafes and on the streets of the old city. With endless mounds of seasonal jewel-toned fruits, malabi (the rosewater mix), Turkish delights, kanafeh, and baklava, the streets are the best place to get your sugar fix. And then the grand display of olives and spices delighting your nose, and then the rich taste fixes with Turkish or Arabic coffee.
Losing oneself in Akko is easy. Walk through the old streets, passing tiny and unpretentious Middle Eastern joints, with locals never failing to greet you with big smiles, and even bigger heaps of creamy hummus, hot and filling falafels, endless choices of salads, the grand display of Middle Eastern spices in the bazaars, the age-old practices of art, and unforgettable experiences served, hot, tangy, and always fresh in your plates in every restaurant.
Read more about Akko in my blog here.
(Visited 17 times, 1 visits today)
Akko
,
Best Hummus in Akko
,
Best Hummus in Israel
,
Eating in Akko
,
Eating out in Akko
,
Uri Buri restaurant
Last modified: September 28, 2020